Marraffa: "We need an adequate infrastructure network for these types of transports".
Nine months of planning for an exceptional transport of a total of 189 km on public roads. This operation, carried out by Marraffa, could be defined as a challenge in every sense of the word. It involved the transportation of a 420-ton carbamate condenser, which left Terno d'Isola (in the province of Bergamo), where the manufacturing company FBM Hudson Italiana is based, and was transported to the river port of Mantua where it was embarked on a barge and carried to the port of Marghera for final shipment to Asia.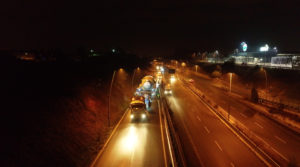 One of the largest exceptional transports ever carried out on Italian roads, it involved about 25 people including technicians, staff and operational staff, and was only possible as a result of collaboration with all the relevant Road Authorities and universities. Without collaboration, nothing can be achieved.
"Our job  is a team effort that needs the collaboration of all those involved – stressed the project manager, Giovanni Marraffa – and that requires months of planning".
The convoy set up consisted of 2 self-propelled SPMTs, each with 20 axles, with a combined total length of about 75 metres and a total weight of about 600 tons. It was a self-supporting device weighing 420 tons loaded on rotating fifth wheel couplings with a capacity of 300 tons each.
"An exceptional transport – says Giovanni Marraffa – which was carried out thanks to the skill and level of preparation of all our staff after a careful and detailed project plan, elaborated by our technical department. The fundamental pillar of our daily work is Health & Safety in the workplace, which today has become our strongest feature and is recognized by our customers".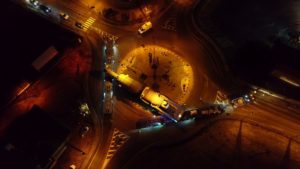 From now on, however, this type of transport operations will become increasingly rare on Italian public roads, not so much for their size, but because of the loads that are obviously too heavy for the inadequate infrastructure we find in Italy.
"All of this – emphasizes Giovanni Marraffa – penalizes not only the companies that operate in the heavy transport sector, but also those companies that produce large boilers, ship engines, turbines, mechanical cutters, construction machinery and all the other types of oversized products".
The collapse of the Morandi bridge in Genoa was only the straw that broke the camel's back."It is clear that for companies like ours, more precise and binding legislation on the safety of infrastructure cannot fail to be a positive aspect – says Marraffa – but the solution must not be to eliminate the kind of heavy load activities we carry out, but rather to adapt and modernize the infrastructure system of the country as a whole. It is clear that adding further stress to bridges and viaducts with decades of operation on their shoulders, and often a history of insufficient maintenance, is not a good thing, but for a country like Italy that wants to grow, the only solution can be to equip itself with a network of infrastructure befitting the many Italian industrial companies that now excel at a world level.
We need to take a 'glass half full' approach, because the collapse of the Morandi bridge has highlighted the need to modernise the oldest structures. "This – says Marraffa – would lead not only to new infrastructure for the country to use, but it would also have a positive impact on the economy and the creation of new jobs in the field of major construction works".
As far as the exceptional and heavy transport sector is concerned, in the next few years the sectors that will certainly provide more work are those involving Oil & Gas and Power/Energy. "There are significant manufacturers of equipment and plant parts that continue to produce and export, but they absolutely need more flexibility in the transportation authorisation process".