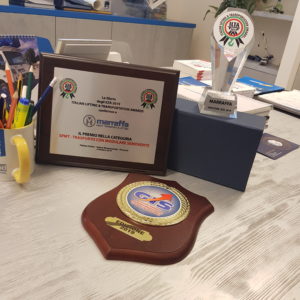 Best exceptional transport of the year. Marraffa was awarded the prize at Gis in Piacenza, the biennial event dedicated to users of cranes, aerial platforms, telescopic handlers, forklifts, machines and equipment for industrial and port handling, mechanized logistics and heavy transport.
This is an exceptional transport, which has been the subject of national news, costing nine months of planning and capable of covering a total of 189 km on public roads. It was a 420-ton carbamate condenser, which left from Terno d'Isola (in the province of Bergamo), where the company that built it has its headquarters, FBM Hudson Italiana, to reach the river port of Mantua to be embarked on a barge and reach the port of Marghera from where it was shipped to its final destination in Asia. Approximately 25 people, including technicians, staff and operational staff, completed one of the largest exceptional transports ever perofrmed on Italian roads.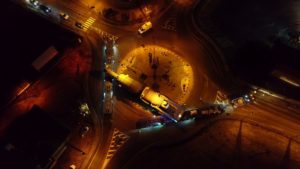 The configuration of the convoy consisted of two self-propelled Spmt each with 20 axles, for a total length of about 75 meters and a total weight of about 600 tons.
Silver medal, instead, for another exceptional transport performed as part of the construction of a wind park in Tolve, Basilicata, which saw the Marraffa rise to the second step of the podium.