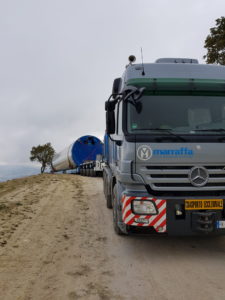 Not only was this one of the most complex handling operations we have ever performed, but it also involved a large number of the MARRAFFA team from both the Martina Franca and Venice offices.  The job involved the installation of 4 wind turbines for the production of renewable energy at Tolve, in the province of Potenza.
The exceptional transport operation required the handling of 4 nacelles, 12 blades, 12 tower sections, 4 hubs and 4 fibres.  A grand total of 36 exceptional transport operations in the mountains of Basilicata, carried out on roads that were built specially to complete construction on a site at the top of mountain, with slopes that, in some places, exceeded 30%.  It took more than a month to accomplish all of the operations, with an average of around a dozen men to carry out the transportation, handling and technical activities.
Transportation was achieved thanks to the reliable technology of the Goldhofer SPMT, with a convoy of up to 67 metres for the enormous wind turbine blades.  The nacelles, meanwhile, created a different kind of problem due to their substantial weight of 112 tons and everything had to be transported on small mountain roads with formidable gradients.  To cope with the weight of the nacelles, a SPMT conformation was set up, towed by a further 2 tractors to ensure maximum safety during traction.
It was also necessary to use 2 MARRAFFA cranes for the lifting operations, one with a capacity of 400 tons while the second one, at 220 tons provided additional assistance in addition to all of the other vehicles that were needed for support and as safety cars.