When you invest in people, you're never wrong. The ITUS Academy has a team of in-house instructors and makes use of the manufacturers of the machines
When it comes to safety at work, there is no better investment than in people. Technologies, devices and equipment evolve over time, increase and contribute to improving working conditions. All these things can be bought, all you have to do is commit an expense to the company's budget and that's it.
What distinguishes WERENT is the investment in people, aimed at building highly specialised professionalism capable of representing the company's true know-how. You can't buy all this, it doesn't come ready-made, but you have to build it up day by day.
It is a demanding, costly and extremely tiring investment, but it is the best you can make, because it is the most durable as well as the most reliable.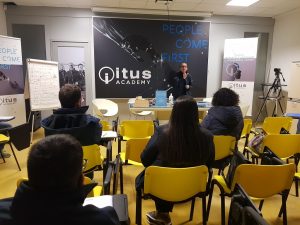 This is why the ITUS Academy was created, a permanent training school strongly supported by the WERENT company management, to meet both the training needs of internal staff and training courses open to personnel from outside the organisation. The ITUS Academy has a team of in-house instructors and makes use of the manufacturers of the machines themselves for the specific technical training relating to the correct operation and maintenance of the company's fleet of vehicles. In addition, in-house instructors provide training for workers aimed at obtaining the necessary qualifications to operate the various types of company vehicles, as required by Legislative Decree 81/2008, with the involvement of company technicians of proven professionalism.
Training is the primary strategic element of WERENT's development policy, which is performed systematically and with constantly evolving training methods and tools aimed at improving its effectiveness.
Alongside the ITUS Academy, the company has created a substantial editorial production, which includes a series of publications relating to the courses organised.
To be a leader you have to train and improve yourself continuously, day after day, with an attitude of readiness to change, constantly questioning even your established habits.
WERENT also organises training activities on: Road construction site safety; Exceptional transports and technical escort; Lifting techniques and Anchoring techniques, also through the technical involvement of experts in the field.
Training activities take place at the training centres at our company sites and, subject to verification, at customer sites.